Swimming with Batfish
It's been two years since Kirk and I returned from our trip to Australia. I'm now getting around to writing about the bareboat sailing charter we took with my mom and a couple friends, Christina and Nathalie (whom I worked with in Sydney), through the Whitsunday Islands.
Below is a short story about Nathalie overcoming her fear of big fish.
~ ~ ~
It's a quiet morning in Luncheon Bay. The five of us are finishing scrambled eggs aboard Felix, our chartered catamaran, when a splashing comes from the stern.
"Batfish!" I yell.
Kirk darts into the galley for a loaf of bread; my mom reaches behind the settee for her camera. Christina, Nathalie and I rush to the safety lines. Batfish know boats mean people, and people mean treats. They chase and jump about each other like puppies after Milk-Bones. After breaking the surface, their dinner-plate bodies flop to the side under their own weight. More than a half dozen crowd around the stern: circling, breaching, flopping.
"I'm going in," says my mom.
"What?" cries Nathalie. In her 27 years, she's only just snorkeled for the first time yesterday. She's still harboring a fear of fish. "What if they bite?"
"Oh, they won't bite. Besides, I want to get some photos!"
Nathalie looks at her as if she's just escaped a psych ward. My mom starts pulling on her wetsuit.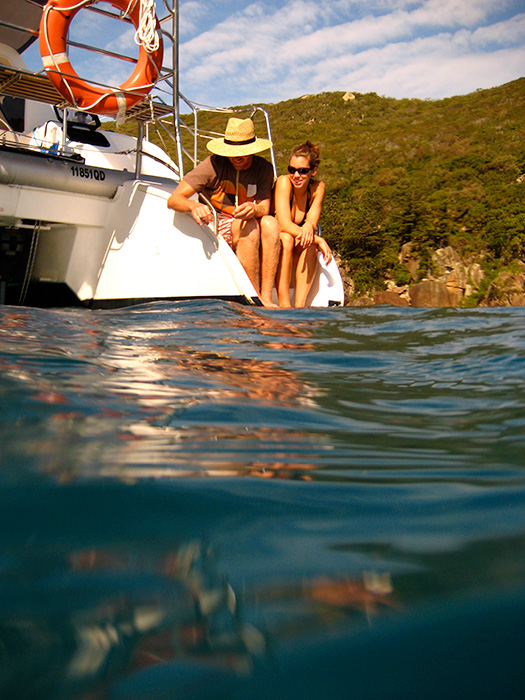 Kirk and I sit on the swim platform and toss in a few pieces of bread. Several batfish break the surface and gobble them up. They swim off, then circle back. I hold a piece underwater, then let out a girlish squeal. "It grabbed it out of my fingers!"
Nathalie screams and Christina cheers.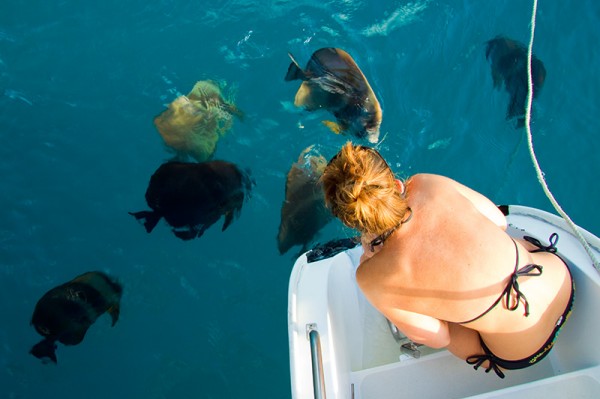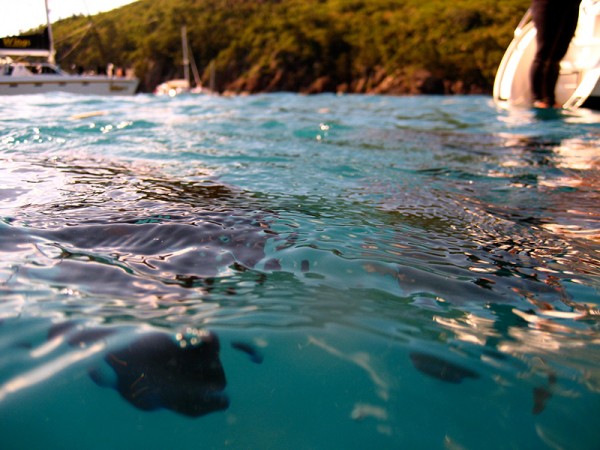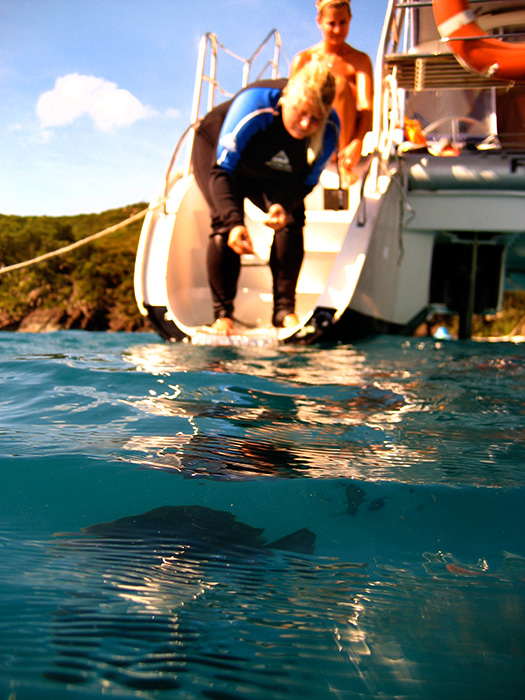 My mom bobs with her camera in the gentle waves, snapping away. I pull on my snorkel and slide into the water.
I duck under and peer through my mask. Seven or eight batfish swim back and forth around my mom. I hold out another piece of bread. One veers toward me and takes it. Its mouth feels like soft rubber. I pop back up, grinning.
Nathalie sits on the stern, tentatively dangling her calves in the water.
"You should come in!" I say.
"I don't know."
"Look." I raise both hands above the water and wiggle all of my fingers. "Still got all ten."
"They're not biting you?"
"Not at all." I duck under again.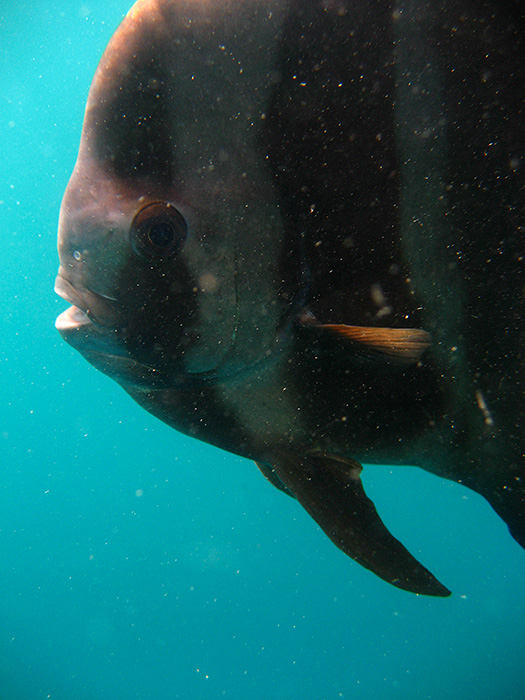 Another batfish swims by. I reach out and touch the side of its body: completely smooth. I report my findings to Nathalie. "Come on in… I'll hold your hand. Promise." After a bit more coaxing, she puts on her wetsuit.
I grab her hand tightly as she slides off the boat. Together we tread water.
"Are you excited?" Christina calls down.
"A bit freaked out," says Nathalie.
I squeeze her hand. "Don't worry. They're like puppies of the sea."
We duck underwater. Keeping a firm grip on Nathalie's hand with my left, I hold out a piece of bread with my right. A batfish swims over and plucks it out of my fingers.
I look at Nathalie. Thumbs up? I motion.
Thumbs up, she motions back. Her snorkel blocks her mouth, but I can see the smile crinkling her eyes.
My mom waves for our attention.
A batfish swims in front of us. My mom presses the shutter button. ☼